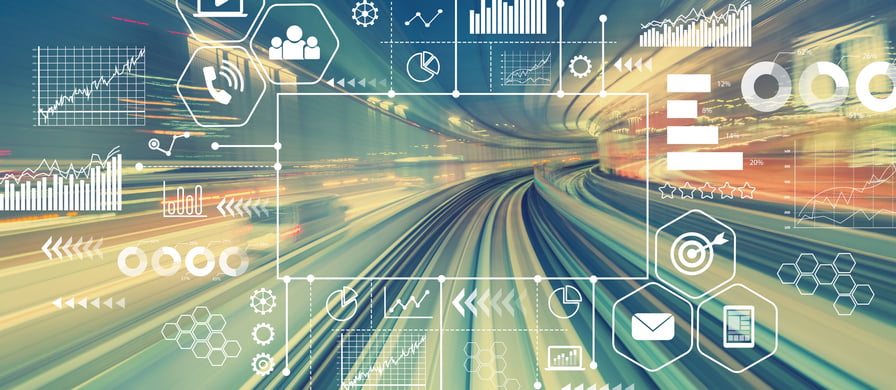 I virtually sat down with Jeremy Collins, EVP Marketing at Azuga, as part of a continuing thought leadership initiative sponsored by InsideUp. Our discussion was focused on sales & marketing alignment and, coincidentally, Jeremy spent 11 years as a sales leader before he moved over to the marketing function 6 years ago. We discussed his philosophy regarding the alignment of sales and marketing and its real-world implementation at Azuga.
Background
Jeremy spent the first 11 years of his professional career in sales.  He then transitioned to a demand generation marketing role at Act-On Software and was named to a position in demand generation and marketing operations about six years ago. As we walk through Jeremy's vision of sales and marketing alignment, you will see the influence of his sales experience and perspectives on his subsequent work as a marketer.
Integrated vs Aligned
Jeremy started our discussion by saying, "I think every marketer should spend some time in a sales role and every salesperson should spend some time in marketing". 
His view is that sales and marketing should be structured as an integrated function within the organization. "You can't just talk about it", Jeremy informed me. "Communication and collaboration are great, but that's all just alignment. Integration," he continued, "means that you have the same goals, and you're going after the same end result. I really think about sales and marketing as an integrated work function within the organization."
That common end result is revenue attainment.  Jeremy brands his team not as "marketing", but "revenue marketing". If the primary metric for sales is revenue, then that should also become the primary metric to measure marketing.  Jeremy continued by explaining that it is not just about measuring "new" business revenue.  Jeremy sees revenue contributions coming from capturing new business, reducing churn, expanding the customer base and broadening product offerings.
In this way, revenue marketing is an integrated discipline that occurs across the entire business that is depending on an integrated marketing campaign.
ABM is a Misnomer
Jeremy stated that the marketing department must connect-the-dots across the enterprise to eventual revenue attainment. Azuga takes a unique approach to marketing by combining standard marketing functions with some "not-so-standard" functions. They have structured their team into six functional areas "…each with clear goals, roles and responsibilities allowing them to stay lean, but with the ability to accomplish a lot".
These sub-functions within the overall marketing function are:
Demand Generation
Product Marketing
Customer Marketing
Revenue Operations
Sales Enablement
Web Development
When I asked Jeremy about Azuga's ABM effort he immediately took issue with the label "ABM".  His response: "ABM is executing targeted and personalized campaigns to the right list of companies by sending the right message at the right time to the right people at those companies. That sounds an awful lot like marketing to me".  Jeremy added, "Everything marketing does is about ABM. From defining your ICP, building the list, designing content & best marketing campaigns and developing playbooks".  These playbooks should incorporate target accounts and be integrated into sales processes.
Jeremy also stated that ABM is not a one-and-done effort. Customers evolve, their needs change and therefore sales and marketing must continue to adapt. The need for constant testing and evolution creates an environment where solution providers like Azuga must always be learning and improving the things it does as a vendor.
Azuga has advanced their demand generation strategy to the point where playbooks are the baseline for all planning and marketing activities. Playbooks enable them to log and document what is working and what is not.  They act as a framework to assess the effectiveness of both sales and marketing efforts.  This is where data really begins to play a key role. Decisions that drive campaign optimization are shaped by data – not by intuition or anecdotal viewpoints.
Once these decisions are made and the plan is in place, Azuga relies on a set of Objectives and Key Results (OKRs) for execution.  It is this OKR[1] framework that is used to then assess campaigns and stay on top of them. 
Inbound and Outbound
We then moved to an examination of how Azuga breaks down their b2b demand generation efforts into categories of inbound interest and outbound engagement.
The inbound side is driven by elements such as content, SEO / SEM, advertising and other marketing campaigns like live and pre-recorded webinars. Inbound leads are considered "hand-raisers" that identify themselves on the website and are ready for a demo. Azuga is constantly monitoring their inbound effectiveness to ensure they are optimizing all their digital investments.
Inbound leads have the highest conversion-to-revenue rates and are, therefore, prioritized at a very high level. Azuga's inbound efforts result in thousands of leads per month. Jeremy shared that these inbound leads can often close within a two-week sales cycle and exceeding a 40% close rate. Given this velocity, Jeremy described it as an "inbound lane".
The outbound side, on the other hand, is where the sub-function of Revenue Operations comes into play. That team is responsible for building/maintaining a database of target accounts and creating all the outreach messaging. The data sets they put together must meet exacting quality standards (such as information accuracy within a contact and verification window of no more than 90 days). Revenue Operations is responsible for setting up the outbound sales reps for successful revenue attainment.
They have approximately 90 people actively targeting 50,000 accounts, and are replenished monthly. The conversion-to-revenue rates are significantly lower on the outbound side and offer a terrific opportunity for continuous improvement.  Jeremy also recognized that much of the outbound activity can also subsequently generate inbound leads (although they do not factor in multi-channel attribution when the same contact goes from outbound engagement to inbound interest, or vice-versa). 
Jeremy maintained that his SDRs are some of the best marketers on their team because they are on the front line, talking to prospective accounts every day. The team is segmented according to industry to further emphasize the potential for repeatable success. The SDRs are empowered to make decisions and adjust strategies & tactics as the need arises. This creates an environment where individuals are not locked into a mindless recital of prescribed messaging. It enhances the overall performance of the team and creates a superior work environment that is constantly evolving to the market.
Sense of Urgency
Jeremy described an ongoing commitment to managing Key Performance Indicators (KPIs) for each sub-function. For Revenue Operations, for example, this is about funnel development. For their team of outbound sales reps, it is very much about activity and results. Azuga tracks performance, at times to the current hour, in order to maintain operational rigor and effectiveness. It is not enough to achieve high levels of activity.  That activity must be measured in terms of produced output and then project that output forward in order to spot positive and negative trends.
Jeremy emphasized the need to head off any drop in revenue or momentum. They do this by carrying an obsession with measuring the performance of, not just their Demand Generation Marketing team, but all their teams. Jeremy proceeded to outline their "early warning system" for assessing revenue trends on an hourly basis. The last thing anyone wants is a revenue surprise.
Azuga may have 30-40 different integrated marketing campaigns running at any given time and it is essential to stay on top of all of them. Whether it is a 3rd party campaign, a SEO/SEM project or another kind of outbound campaign, Azuga is managing to their OKRs with rigorous transparency.
Marketing's attention is focused on the ability of the sales team to drive revenue. Revenue is tied to the value measured in the pipeline as opportunities move from early to later stages. This is where the concept of "integrated" versus "aligned" truly comes into focus.
In conclusion, I asked Jeremy to look forward to what Azuga can do to further align and integrate sales and marketing. His answer reflects his training and confidence in the discipline of sales:
"We've proven the framework. We see the results. The actual hard part now is to do it sustainably, and at scale, over the coming years. To do this, we cannot allow ourselves to become complacent.  We have to focus on 1% improvements week by week.  This may not seem like much, but over the course of 52 weeks and beyond, a 1% improvement per week is a substantial increase in a framework that already works."
---
[1] OKR – Objectives and Key Results. This is a framework discussed in John Doerr's book "Measure What Matters: OKRs: The Simple Idea that Drives 10x Growth"
InsideUp, a leading demand generation agency, has over a decade of experience assisting technology clients, that target mid-market and enterprise businesses, by meeting and exceeding their key marketing campaign metrics. Our clients augment their in-house demand generation campaigns (including ABM) by partnering with us to build large sales pipelines. Please contact us to learn more.